This is a weather.com image of the Raleigh/Durham area right now: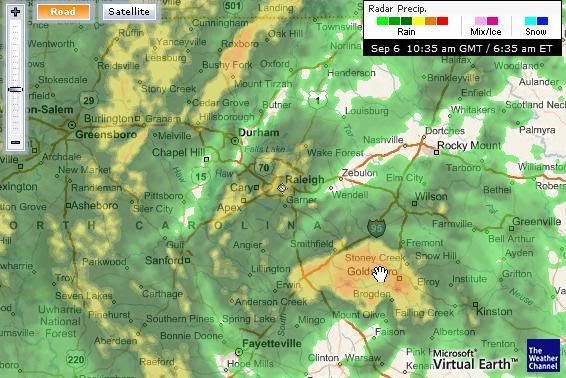 Yeah, that's the eye of hurricane Hanna just east of Fayetteville.
Why Raleigh/Durham? Well, that's where I'm at right now, posting from my laptop in the very nice Sheraton Imperial. I'm here for a driver coaching seminar being given by Ross Bentley, author of the
Speed Secrets
books.
So yeah, I've flown away from home, into a hurricane, by myself, just shy of two weeks after being in the hospital, anxious as all get out about these weird sharp muscle pains under my right arm (ribs) and below my belt. I know they're muscle pains because they only hurt if I'm reaching or stabilizing myself... so I'm moving kinda carefully as I go. And praying constantly.
God got me through the anxiety of getting on the plane and got me here just as the storm arrived. He blessed me with an easy checkin and some very good rest before treating me to a visit with wonderful friends, the Valentines, whom moved here earlier this year. We had a great dinner at
Ole Time Barbecue
that Brett had seen on
Road Tasted with the Neelys
on the Food Network channel. It was
excellent
. :d
Good nights' sleep capped off the big day and now I'm up getting ready to go learn how to teach drivers to drive fast. Oh, and safe too. :D
I am very thankful for the smooth sailing so far and I know I'll be okay going home... even through the tail end of a hurricane.